In 1942, the Polish Army enlisted a bear. He eventually was promoted to the rank of Corporal.
By Adam Azra'el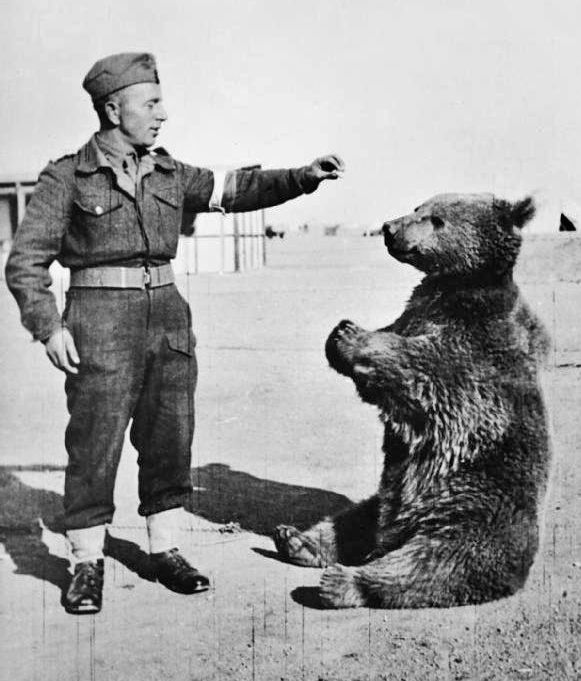 Photo courtesy of the Imperial War Museum
World War II history is filled with the exploits of brave men and women. There are stories about science. There are stories about technology. There are stories about heroism and strength and fortitude and patriotism. 
There are also, as it turns out, stories about bears. 
ANDERS' ARMY
In the spring of 1942, a ragtag Polish military unit nicknamed Anders' Army arrived at a train station in Hamadan, Iran. 'Ragtag' isn't a term used metaphorically; they were terribly supplied and almost the entire army had only recently been released from their status as Prisoners Of War; the Soviet Union (which until that point had steadfastly declared that there was no longer a Polish State) had released them on account of an unexpected betrayal by its old buddy, Germany. Anders' Army were on their way to rendezvous with the British in Palestine, at which point they'd be shipped to join the campaign in Italy. And if reading that made your head spin....well, welcome to World War II.
WOJTEK THE BEAR
At this particular Iranian train station, a few of the men made an unusual purchase from a young boy. They returned to their friends as the proud new owners of a young bear cub. There is no record which gives a clear indication of why exactly a young boy was selling wildlife at an Iranian train station, and we're all probably going to have to live with that, but the cub was a hit.
For months it was nursed back to health by its newfound family, and as bears tend to do, it just kept on getting bigger and bigger. A young woman traveling with the soldiers named him Wojtek (WOY-tek), and he became the veritable star of the show as they waited for their orders. At some point, presumably five or six minutes after he was purchased at a train station, the soldiers of Anders' Army had a rather horrible realization: none of them had any idea how to train a bear. Either because they didn't understand what a bear was or just because they had balls of steel and didn't care, they opted to just let him roam free and treated him like any other soldier.
As any young'un does, Wojtek spent a great deal of time doing his best to emulate the people around him. He was said to be a little grouchy in the morning before he'd had his coffee, he greatly enjoyed cigarettes (smoking them never really caught on, but he was happy to eat them), and he loved beer as much as any other soldier in the neighborhood. He was also keen to be a good team player; he'd march in formation on his hind legs and would happily salute when greeted. 
WOJTEK THE BUDDY
Of course, Anders' Army was still, you know, an army....and World War II was far from over. Eventually the call came and the army was ordered to make its way to Italy and join the campaign. In Egypt, just as they were about to begin the last leg of their voyage, the soldiers received terrible news: their beloved (giant) friend Wojtek wouldn't be permitted to make the journey with them, as mascots weren't considered soldiers and therefore weren't transported to war zones.
The heartbroken men began bracing themselves to say goodbye to their pal when one of them suddenly had a great idea. Mascots aren't allowed, he reasoned, but they sure aren't in a position to turn away a soldier. In what must surely be the most brazen act of forgery known to man, Anders' Army miraculously found its numbers increased by one. Paperwork for a Private Wojtek made a mysterious entry. His paybook, service number, and rank were filed with the unit and Private Wojtek was cleared to make the journey by a port authority who, we assume, simply didn't have a single f**k left to give about anything.
WOJTEK THE SOLDIER
Let's back up a second to clarify that Anders' Army was part of the Allied forces in Italy, meaning that they had just drafted a six-foot-tall, beer-swilling, cigarette-eating, 500-lb monster to go fight Nazis. And fight he did....although he couldn't quiiiiiite be trained to actually go eat Nazis (maybe somebody should have just told him that they had beer and cigarettes), there are a number of accounts of Wojtek being seen by British soldiers, schlepping crates of ammunition which normally took four men to lift and stacking them on trucks.
Those particular reports spread around the world like wildfire. We'll never know whether the Nazis had a little tremble in their bootzen at the realization that even the wildlife had had enough of their nonsense, but we can certainly hope so. Newspapers carried stories (some true, most wildly exaggerated) of Wojtek's exploits as a morale booster and, frankly, as literally the only thing about the war that wasn't completely horrific. Wojtek became so popular that the insignia of his unit was changed to reflect the story. Eventually, the bear cub who was bought in an Iranian train station on a whim became a full-fledged Corporal in the Polish Army.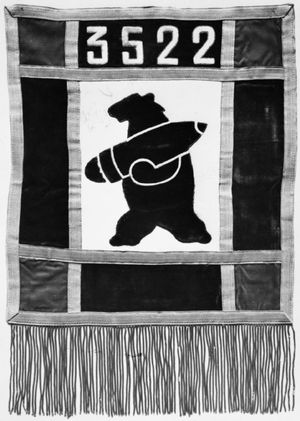 Photo courtesy of the Imperial War Museum
WOJTEK THE RETIREE
After the end of the war, Wojtek made his way to Scotland with the rest of his unit. As Anders' Army was slowly disbanded, the question of where their furry friend would live became more and more pressing. Despite political pressure to bring him to Poland (where the soldiers feared he'd become a symbol of Communism - which, to be fair, is exactly what would have happened), the decision was eventually reached that he'd stay right there in Scotland. He maintained his wild celebrity status for the rest of his life in the tiny village of Hutton in Berwickshire. He was treated as a war hero and was frequently visited by soldiers from his unit, who found him always ready to hit them up for a cigarette.
Wojtek eventually died at the age of 22. Even in death he's celebrated as a war hero, and statues of him can be found in Scotland, England, and Poland. Every once in a while, somebody will still visit the statues to leave him a bottle of beer or a pack of smokes. 
---
Adam Azra'el is the producer of The Lesser Stories podcast, a multi-instrumentalist, and a colossal fan of ham and cheese sandwiches. You can find him around the internet being a general pain in everyone's backside on facebook and instagram, and he has tweeted exactly once. 
---
SOURCES