In 1783, a dispute over a diamond necklace destroyed what was left of Marie Antoinette's reputation and set the stage for the French Revolution.
By Adam Azra'el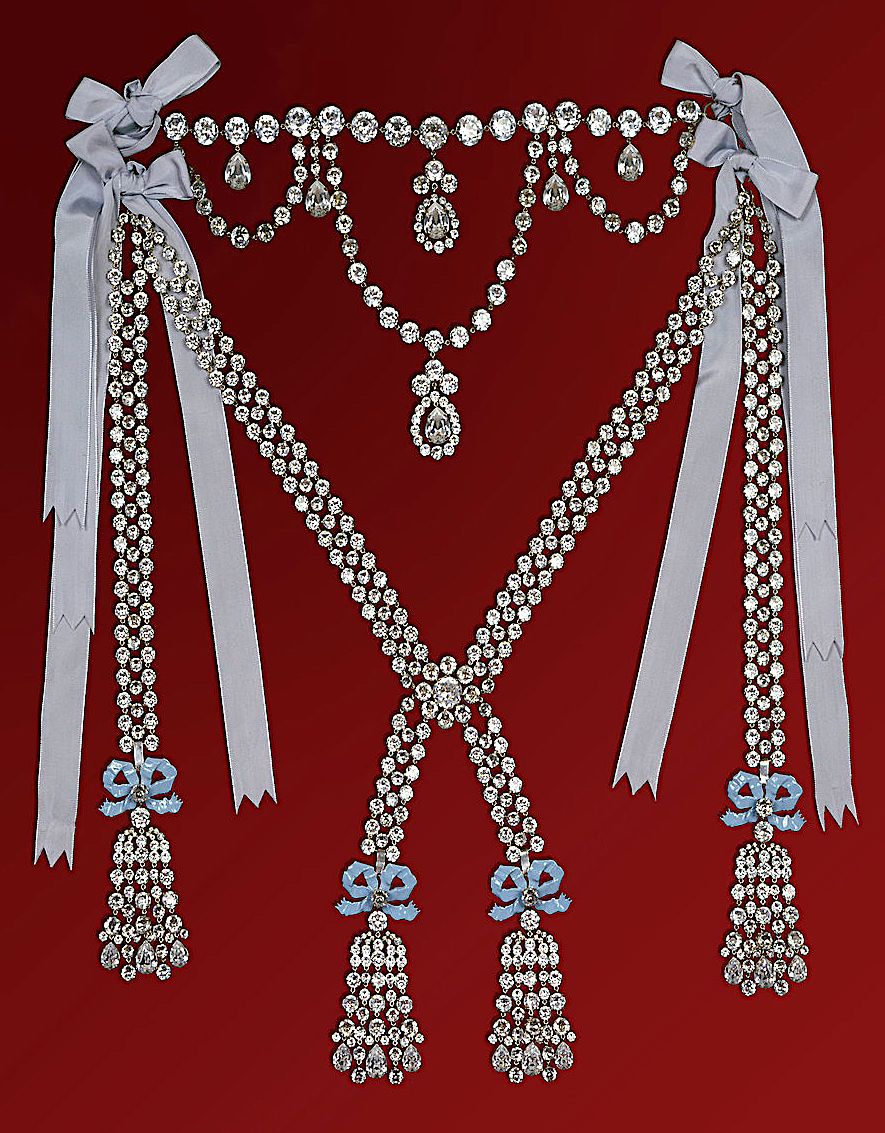 Photo: Château de Breteuil / CC BY-SA (via Wikimedia Commons)
Ah, France....birthplace of the baguette, land of bizarre prison escapes, home of the Eiffel Tower....and the site of one of the dumbest, most ridiculous, monarchy-ending accumulation of inexplicable blunders in human history.
Our story begins with a diamond necklace.
THE NECKLACE
Louis XV was the King Of France, and life was pretty good for him (for most French people....not so much). The guy had it all....money, power, great hair, and a mistress that he was just gaga for. So strong was his infatuation, in fact, that he decided to commission a special gift for her: a diamond necklace. 
Cool, says you, I gave my girlfriend a diamond necklace for Christmas. Funny enough, that comparison had also occurred to Louis, who was determined that this particular gift should really set a new bar in the romance game. And as it turns out, when you're a monarch with absolute authority it kicks your gift-giving power up a few notches; the estimated value of the necklace in today's terms was around $15 million (sidenote: that's the number we'll be using. If you want to get technical, the number was 2 million livres). Even for the King of France, it was an extravagance that bordered on insanity.
The contract to actually create the necklace went to two Paris jewelers, Paul Bassagne and Charles Auguste Boehmer. As if to illustrate the audacity of the work, collecting all of the diamonds needed and assembling the piece took two years and cost the pair almost every penny they had. That wasn't a big deal, though, because Louis XV was good for the money (being King and all), so they happily shouldered the entire expense and dreamed every night of what they'd buy with the colossal payday coming their way once they handed off the necklace to the King.
A ROYAL SWITCHEROO
In a place and time when the average life expectancy was in the neighborhood of 35 years, to make somebody wait two years for delivery of a necklace is to court disaster. Perhaps nobody in human history has ever learned this lesson more brutally than Bassange and Boehmer, who finished their masterpiece necklace just in time to find out that Louis XV had, as people tended to do, kicked the royal bucket in the interim. He had been succeeded by his grandson, Louis XVI (yeah, the numbers were off, there was something about somebody being in prison, let's not get distracted), who had immediately begun making a few key changes to the royal roster. It turned out that New Louis (as he was called by nobody except us just now) wasn't a fan of Old Louis' mistress and had banished her from the court upon his ascension to the throne.
None of this would have been a huge problem for Bassange and Boehmer if it wasn't for the terms of their deal with the now-dead Louis XV. The two jewelers were so busy watching their star rise that they had agreed without hesitation to three little words that spelled their doom: Payable On Delivery. Now, with a new king in place who wasn't likely to be shelling out on his grandfather's old romances, they realized with mounting horror that they hadn't been paid a single penny for the necklace that had cost them two years of their lives and nearly their entire life savings to create.
THE DESPERATE SALESMEN
The unfortunate craftsmen didn't have a contingency plan for their buyer biting the dust, so they were forced to improvise. For the next four years, they did their level best to convince Louis XVI that he really wanted to buy the necklace as a gift for his illustrious wife, Marie Antoinette. Finally the king, presumably in a moment of drunken lunacy, offered the necklace to Marie as a gift. She turned it down flatly, noting that France was more in need of several new ships than it was of a diamond necklace....you know, because the necklace was so expensive that it was literally going to be one or the other.
Depressed and broke, Bassange and Boehmer hit the road with their shimmering monstrosity, crossing their fingers on finding some bare-necked, deep-pocketed nobility somewhere else in Europe. The various royalties of the continent, perhaps busy keeping tabs on the trouble being made by a particular British colony at the time, weren't particularly interested in a diamond necklace that cost as much as an army, and within three years the pair had exhausted their options and returned to France, where the queen was just celebrating the birth of her second son. Still determined to close the deal, they took another whack at selling the necklace to her....and really, what could be a more timely and useful gift for a second-round mother than a $15 million diamond necklace? Marie Antoinette, possibly unconvinced about the virtues of dropping the GDP of a small nation on a piece of shiny party wear, declined again.
A CON, A CARDINAL, AND A QUEEN WALK INTO A BAR
Story time: there was a Cardinal in France at the time, Cardinal de Rohan, and Marie Antoinette hated him. The reasons weren't particularly juicy or original; we can just say that Rohan had a particular inability to keep Marie's name out of his mouth. Cardinal Rohan had a mistress of his own, Jeanne, who had some particular thoughts about climbing the social ladder in the French court.
We know what you're thinking: who cares? Well, our favorite jewlers cared a lot about these people, because Jeanne had convinced Rohan that she was besties with the queen. Rohan, delighted, had been running his mouth about how he was doinking the queen's BFF, and Bassange and Boehmer started to think that they might finally have found an in with Marie Antoinette.
The two approached Jeanne (Rohan's mistress) and asked her to facilitate the sale in exchange for a fee. She agreed, and started working....on Rohan, because she had straight-up lied to everyone about being friends with the queen and wouldn't have been able to convince Marie Antoinette to spend a nickel on a gumball, let alone $15 million on a diamond necklace. 
Not being particularly flush with cash herself, Jeanne forged a series of letters from Marie Antoinette to Cardinal de Rohan, extolling their newfound friendship. The Cardinal was delighted to be back in the good graces of the queen, which seemed like an absolute miracle. At one point, Jeanne even brought the Cardinal to meet Marie....or rather, she introduced Rohan to a prostitute who kind of looked like the queen and who told Rohan that they were all squared up now. The Cardinal, for reasons unknown, hadn't the slightest notion that he was speaking to a prostitute and not her majesty, which tells us that he didn't know much about the queen (nor, indeed, about prostitutes).
One fine day, the Cardinal received a letter from the queen which described a fabulous necklace that she absolutely must have, but she didn't want the hungry public to know that she'd splurged on it. Cardinal de Rohan, stupid and loyal to the end, immediately made arrangements with an extremely relieved Bassange and Boehmer to purchase their obscene diamond necklace on behalf of his beloved queen.
THE MYSTERY OF THE TOTALLY OBVIOUS EVENT
The following day, Bassange and Boehmer welcomed a valet of the queen into their shop to collect the necklace. He inspected it thoroughly, carefully packaged it, and walked out the front door. Thrilled to have finally made it to the finish line, the pair hurried to the bank with the Cardinal's notes....only to find out that the Cardinal didn't have anywhere near enough money to cover the cost of the necklace. Oh, and that guy didn't work for the queen. Surprise! He was never seen again, and the necklace ended up being torn into pieces and sold on the black market, which has to be the most obvious thing to have ever happened.
Cardinal de Rohan, having written a $15 million bad check, was embarrassed and ashamed. Marie Antoinette was still blissfully unaware that any of this had even occurred. Bassange and Boehmer were livid (and probably a little red-faced, having just had the rug yanked out from them yet again). Jeanne, Rohan's mistress, was mysteriously very wealthy seemingly out of nowhere. Barnum and Bailey....wait, sorry....Bassange and Boehmer were at their wits end, and complained to the queen.
ENTER MARIE ANTOINETTE
Marie Antoinette was also furious once the fiasco had been explained to her (over cake? We'll never know). Was she angry that somebody had defrauded two honest jewelers by taking advantage of the fact that they were clearly morons? Well....no. She was angry that someone believed that she wanted to drop $15 million on a diamond necklace when the country was....well, not in any financial shape for that kind of extravagance.
Financial woes or no, a queen is still a queen and the Cardinal de Rohan and his mistress Jeanne were arrested immediately, along with the prostitute who looked like the queen, Jeanne's husband, and a political rival of the queen who had absolutely nothing to do with anything of this but it was sure convenient. The necklace was obviously never recovered, having been pieced out and sold as soon as it was stolen (or rather, as soon as it was handed off to the "queen's valet"....whoopsie). Cardinal de Rohan was acquitted but was also stripped of his title and booted out of Paris because the letters were fake and the queen definitely still hated his guts.
The trial, despite proving beyond a shadow of a doubt that Marie Antoinette hadn't played any part in the affair apart from simply existing, was nevertheless a public relations nightmare for the already unpopular monarchy. Proof or no, the story that Marie Antoinette had attempted to drop that kind of money on a necklace lit a particular fuse with the public; four years later the French Revolution would kick off with a bang and Marie Antoinette would find herself with precious little need for any sort of necklace. 
THE SCOREBOARD
Normally this is the point where we'd wrap up with a moral of some kind, but there's really none to be had....this entire story is a series of mindless blunders. So instead of a moral, let's just take a look at some of the highlights from the game and examine our final scores.
Bassange and Boehmer: at any point, they could have just taken the ridiculous necklace apart themselves and sold it or reincorporated the diamonds into slightly-less-expensive pieces. Oh, or they could have had the brains to say "show me the money" to....literally anyone. Score: -50 points
 
Louis XV: Setting aside that he probably should've kept it in his pants, he could have....you know....not ordered a $15 million necklace. Score: -5 points
 
Jeanne de la Motte: Honestly, this was pretty masterful on her part, but she made one fatal error which ended up outing her: the letters from the queen which she forged were all signed "Marie Antoinette of France". This was a major gaffe, because French royalty only signed letters with their baptismal name. She might have actually carried this whole thing off if she'd signed them "Marie of France". Score: -10 points.
 
Cardinal de Rohan: first of all, when you talk smack about the queen, she remembers it and it's foolish to believe otherwise. Second, your new mistress probably isn't actually BFFs with the queen of France. Third, your new mistress shouldn't probably need to borrow $15 million from you to buy a necklace for the queen of France. Fourth, when you meet the queen of France, make sure it's actually her and not a hooker. The biggest hit on the Cardinal, though, was the letters....because as someone extremely well-born and familiar with the traditions of French nobility, he definitely knew that monarchs didn't sign letters with their last names. Score: -100 points
 
The "Queen's Valet": There's no word on who this dude actually was, but he walked out the front door of a shop with $15 million worth of diamonds and was never seen or heard from again. Score: +100 points 
 
The Prostitute: Honestly, right up the arrest she was just kind of doing what prostitutes do. She was ultimately arrested, though, so it clears her off the board. Score: 0 points
 
Louis XVI: He really didn't have much to do with this, but he did offer to buy the necklace for Marie Antoinette at one point so we're putting him on the board right next to his randy grandfather. Score: -5 points
 
Marie Antoinette: It's funny that for being the one person here who was completely innocent, the queen still managed to be the bad guy. Her big gaffe was in making the trial a public spectacle; if she'd had a little better thumb on the pulse of her citizens, she'd've known that they were going to end up hating her as soon as the terms "$15 million diamond necklace" and "Marie, Queen Of France" were spoken out loud. Score: -1 head 
---
Adam Azra'el is the producer of The Lesser Stories podcast, a multi-instrumentalist, and a colossal fan of ham and cheese sandwiches. You can find him around the internet being a general pain in everyone's backside on facebook and instagram, and he has tweeted exactly once. 
---
SOURCES