In 1982 a California man strapped weather balloons to a lawn chair and ended up 16,000 feet in the air. 
By Adam Azra'el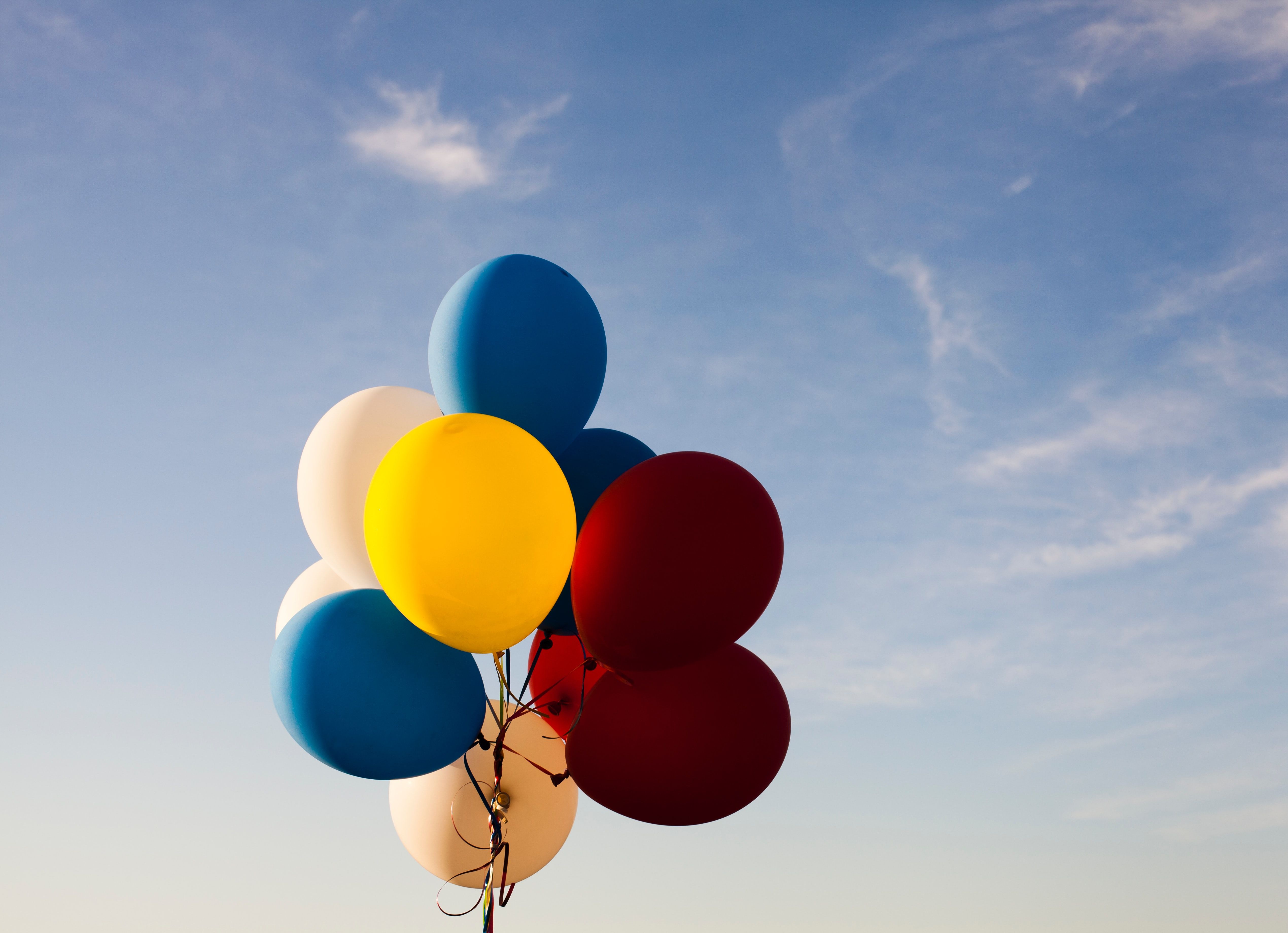 Photo: Andreas Weiland
For as long as men have existed, they have dreamed of flying. Images of men with wings decorate our oldest and most sacred institutions, Leonoardo Da Vinci famously designed a flying machine, and modern man travels the sky in airplanes without hesitation, never stopping to marvel at the wondrous machines that propel him through the air.
And also, one time a guy named Larry strapped a bunch of balloons to a chair to see if that would work too.
THE MAN
Larry Walters was a man who could be described as a "person" who "maintained a pulse and a reasonable body temperature." As a child, Larry dreamed of becoming a pilot. His eyes, unfortunately, did not share this dream and his less-than-perfect vision resulted in an early disqualification from any form of piloting. As an adult, he instead found solid work as a truck driver, and by all accounts a perfectly functional one. But let it never be said of Larry that he gave up his dreams, because his thirst for flight remained as strong as his utter lack of qualification to realize it.
THE PLAN
If you're here looking for a story about a visionary whose ideas were panned by his contemporaries but who was eventually vindicated in the history books, keep reading....if only because you need to understand that most ideas that sound earth-shatteringly stupid really are just stupid ideas. 
The idea in this case had actually occurred to an adolescent Larry one day when he was absent-mindedly staring at the ceiling of a military surplus shop (you know, as one does). The shop was displaying a number of weather balloons for sale, and while 13-year-old Larry wasn't strapped enough to make the purchase right then, he filed the idea away in the corner of his mind for the next 20 years.
Finally, the dam of common sense could hold back the waters of Larry no more, and at age 33 he resolved to make his flying dream a reality. He and his girlfriend (about whom we will be making no assumptions of any kind) gathered the necessary supplies: a lawn chair, a number of water jugs to use as ballasts, a length of rope, some beer and sandwiches, a gun, a CB radio, and 45 8-foot weather balloons which were purchased under a forged requisition order that mentioned filming something for a television commercial. Classic.
 
THE FLIGHT
On the morning of July 2, 1982, Larry and his ground crew (read: Larry's girlfriend and a couple of buddies) prepared for launch. The balloons were filled with helium and tied firmly to the lawn chair, which contained Larry and was in turn tied to Larry's jeep with two ropes. Firm in his belief that they were as prepared for the moment as they were ever going to be, Larry instructed his ground crew (read: Larry's girlfriend and a couple of buddies) to cut the first rope, which they did. Abandoning any pretext at recognizing the gravity of the moment, the second rope snapped and Larry, with beer, sandwiches, radio, and gun firmly in hand, headed up into the blue. 
Incredibly, a great deal of Larry's flight was recorded in the form of his radio conversation with the ground crew (read: Larry's girlfriend and a couple of buddies). The 18-minute audio file, published years later by Lawnchair Larry fan Mark Barry, reveals some absolutely phenomenal details about the mindset of both Larry (whose signature phrase seems to be "A-ok", at least for the first few minutes) and the ground crew (read: Larry's girlfriend and a couple of buddies).
THE PROBLEM(S)
Fun fact about balloons: they don't come with a steering wheel. 
Notable among the events related in the surprisingly high-quality recording is the realization that Larry, whose skyward journey was estimated at roughly 1000 feet per minute, was fast approaching the territory reserved for a brand-new kind of machine: the airplane. The ground crew (read: Larry's girlfriend and a couple of buddies) noted via radio that while they could no longer see Larry, they could hear airplanes, with which they were apparently familiar enough to understand why that wasn't good thing - even if it was the first time it had occurred to any of them. Larry, in his infinite wisdom, had decided to launch his homemade deathtrap in Los Angeles county, home of LAX - one of the busiest airports on the planet. From 16,000 feet, a TWA pilot radioed a bewildered call to the ground about a man in a lawn chair tied to a bunch of balloons, and the Federal Aviation Administration (presumably after asking the pilot to repeat himself several times) notified the police.
As if that weren't enough, further conversation between Larry and the ground crew (read: Larry's girlfriend and a couple of buddies) led them to a second realization: the ocean exists. Larry, the visionary, had launched his homemade deathtrap in Los Angeles county, home of the last land before the Pacific ocean. Some scholars may question the wisdom of attempting a flight in a "flying machine" which cannot be steered or otherwise controlled between a busy airport and the world's largest ocean, but not Larry....for a few minutes, and then he joined the rest of the world (and his ground crew) in their skepticism and made for the ground. 
THE DESCENT
Larry was nothing if not prepared, and he had a plan in place for initiating his descent: he had, after all, packed a gun. He began shooting at the balloons which were carrying him skyward, managing to pop a handful of them before accidentally dropping the gun. Relying from that point on nothing but prayer, luck, and beer, Larry slowly descended....toward Los Angeles County, which is one of the more densely-populated spaces on earth. Concerns over where to land not being particularly relevant to a man who could neither steer nor control his descent in any way, Larry simply held on and waited to find out whether he'd live. 
After 45 minutes in the air, Larry landed in Long Beach, California....and by "landed", we definitely mean "crashed into some power lines". Amazingly, he was uninjured in the crash and managed to scramble down from the power lines, where he was immediately arrested.
 
THE CHARGES
Interestingly, despite the blatant stupidity of the whole affair, actually charging Larry with a crime proved to be a difficult task. He didn't have a pilot's license, so there was nothing to suspend and he hadn't knowingly violated any laws because he had never bothered to learn what those might be, and because aviation law simply wasn't written with anything quite that ridiculous in mind. Finally the prosecutors, determined at that point to punish Larry for literally anything, charged him with "operating an aircraft within an airport traffic area without establishing and maintaining two-way communication with the control tower", for which he was fined $4,000. Larry appealed the fine, which was lowered to $1500. The chair was given to some random local neighbor kid, Larry enjoyed about six days of infamy, and the ridiculous adventure has since spawned a number of copycat performances, many of which have resulted in fatalities. 
THE MORAL
Not every idea is a good idea. Don't do this. Don't do any of this. Don't admire people who do this. Just don't. 
---
Adam Azra'el is the producer of The Lesser Stories podcast, a multi-instrumentalist, and a colossal fan of ham and cheese sandwiches. You can find him around the internet being a general pain in everyone's backside on facebook and instagram, and he has tweeted exactly once. 
---
SOURCES