A little over 3,000 years ago, the island of Thera exploded and history kind of exploded with it.
By Adam Azra'el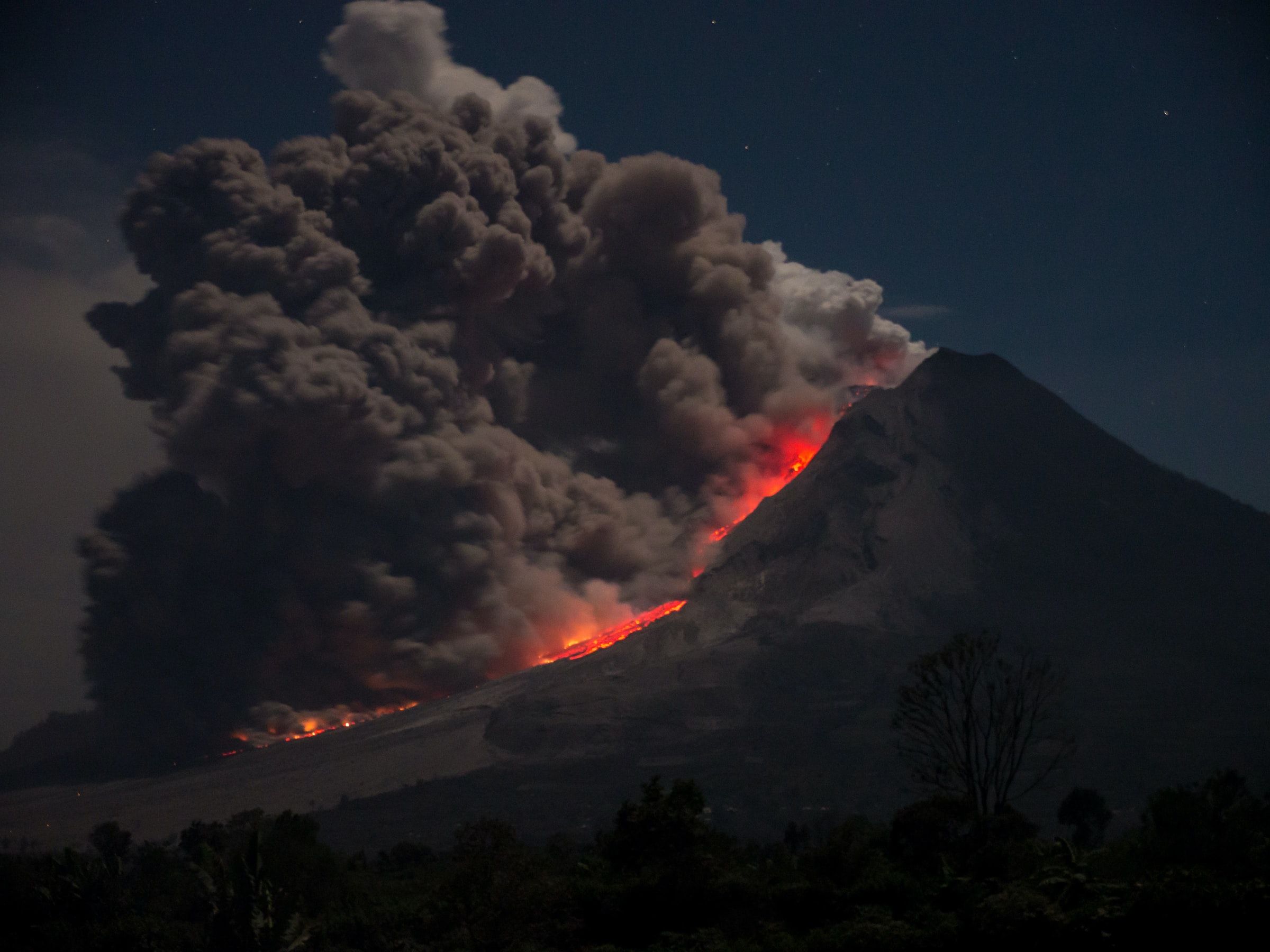 Photo: Marc Szeglat
Buckle up, folks, because we're going for a RIDE today. History is kind of a fickle subject, and it gets more and more dicey the farther back you go. People lie about things and other people write them down, records are destroyed (either accidentally or very much on purpose), and humanity is just - as we've covered many times before - generally awful at learning from the past. 
With that said, there are some events which are so massive and intense that humanity can't help but remember at least the gist. You know something was big when mentions of it pop up in fragments of recorded history from all over the world, and there's nothing that embodies that concept quite as well as the story of a tiny Mediterranean island which, one fine day, decided to explode.
THE BIG BANG
And when we say "explode" we mean it. This wasn't your run-of-the-mill cutesy volcanic eruption where a mountaintop shoots off some smoke and fireworks. The entire island was there, and then only a very small part of the island was still there. The island is known today as Santorini, and it looks like this: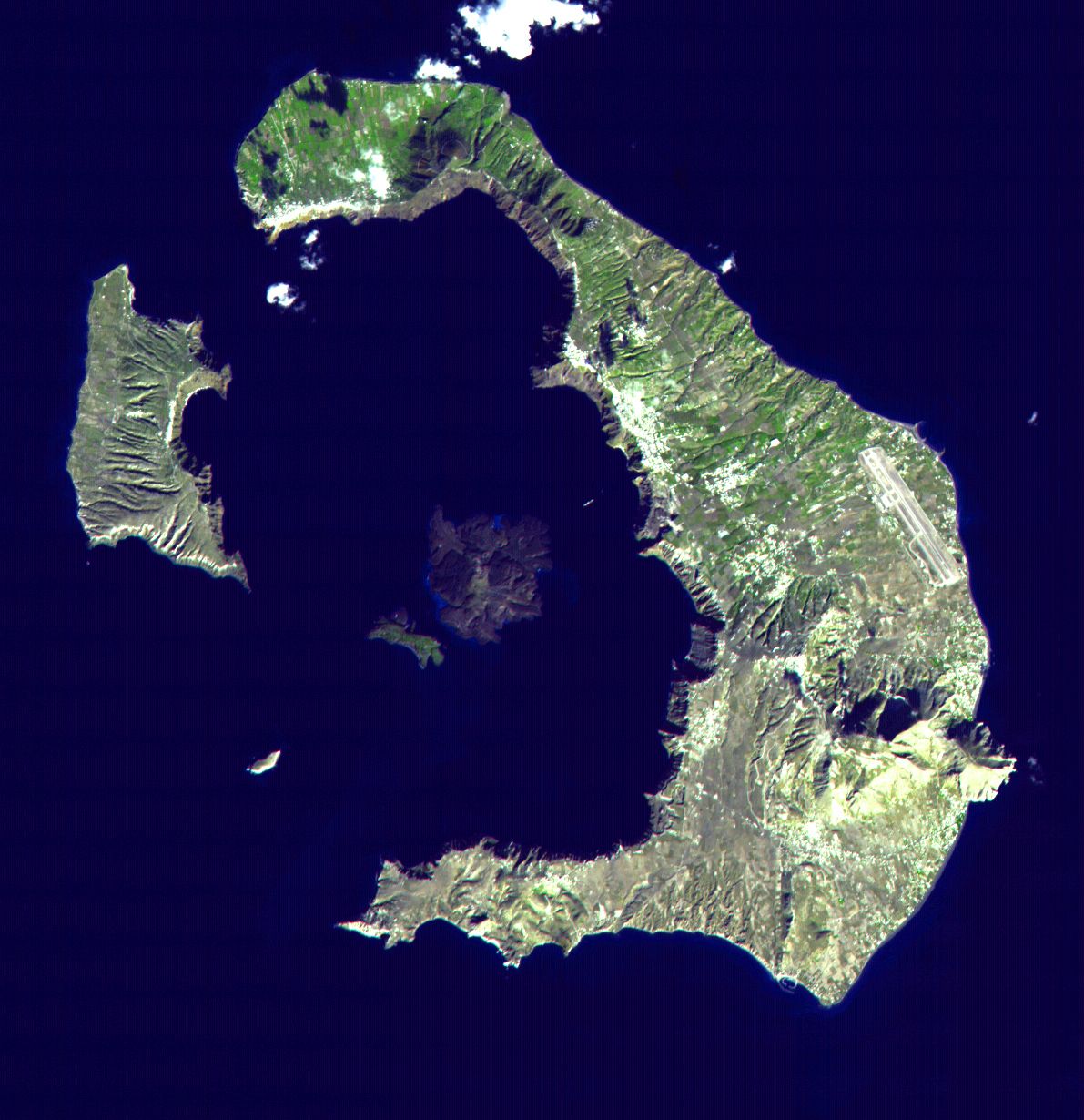 Photo: NASA
I AM VOLCANO, HEAR ME ROAR
As you're looking at the photo, you might notice that it sort of looks like Santorini used to be a round island and is now a tectonic donut. If so, you're right on both counts....Thera exploded so hard that the ocean had to fill in the gaps. There's a scale called the Volcanic Explosivity Index, which ranks all known eruptions on a scale of 0 to 8; 0 is "not great but probably nobody died" and 8 is more of a "basically everything on the planet died, lol". The eruption of Thera lands at a solid 7, placing it in the top ten most destructive eruptions ever known to have occurred.
MINOAN-SHMOAN
When an explosion is that big, somebody is going to notice. Somebody, in this case, is actually a pretty broad call; mentions of the Thera eruption (and/or its subsequent effects) can be found in Minoan, Egyptian, and even Chinese records.
The important note is that it's not just the eruption itself that made the news, so to speak. A volcano this size doesn't just go supernova in a vacuum; it can have major short- and long-term affects on weather, crops, animals, and obviously, people. Nobody knows this better than the Minoans, whose civilization was chugging along just fine and dandy when.....boom. 
Apparently the Minoans had enough notice to get off the island (geologists didn't exist but really, how many earthquakes and ominous smoke plumes can a village really endure before somebody starts worrying?), so a small settlement was hastily abandoned. But while the inhabitants of the tiny settlement avoided the actual eruption event, the Minoans as a whole found themselves more than a little unprepared to deal with losing most of their crops and a whole bunch of their animals all at the same time. Their economy in shambles, their sky blocked by seemingly endless clouds of ash, and their bellies empty, they were easily overrun by a (semi)local rival and the golden age of Minoan civilization came to an abrupt end.
MEANWHILE, BACK AT THE NILE
In Egypt, the eruption itself wasn't an event....but its effects most certainly were. A carved monolith known as the Tempest Stele describes massive storms which did significant damage all over the Nile river valley and surrounding areas. 
And as if that weren't wild enough, there are some....erm....side effects of a volcanic eruption which might sound eerily familiar to anyone who spent some time in Sunday school as a kid. Precipitation-heavy clouds which had traveled in the vicinity of the eruption would have been full of sulfur and cinnabar, which in turn would have caused the Nile and other water sources to appear red. The contaminated water would have been fatal to large animals (and children, for that matter), causing a great many to die off relatively quickly. The carcasses of those animals would have attracted massive swarms of insects, even as small animals (especially frogs and other amphibians) fled the acidic river water. Adult humans would likely have developed boils and sores from the extremely high levels of acids and toxins in the water.
If all of these things are starting to sound like we just plonked out a page from Exodus....well, there's some uncomfortable news there. Here, in order, are the plagues which, according to the Bible, were visited by the Big G upon an unsuspecting Egypt:
The waters turn to blood

A mass of frogs invade the city

A plague of lice infests everything

Wild animals invade and cause damage

Pestilence kills most domestic animals

The people develop boils

Burning, rock-hard hail destroys crops

A plague of locusts devours crops

Darkness covers the land and the sun is blocked

The death of Egyptian children
Just for the record: we're not pushing any particular faith-based bandwagon here, but it's hard to deny that that is the absolute mother of all coincidences. And to be perfectly frank, if all of this happened to you and you didn't know that it was because an island had gone off like a bomb seven hundred miles away, you'd be pretty keen on any explanation that was presented to you.
AND IN THE EAST...
We in the West don't necessarily like to hear this, but the Chinese have been around for a long, long time. China has been China longer than anything has been anything. And as it turns out, 3,500 years ago our friends were just wrapping up their first official dynasty. Written accounts of the period note that the end of the Xia dynasty was marked by "yellow fog, a dim sun, then three suns, frost in July, famine," along with the withering of crops. You know....almost like a huge volcano had erupted and screwed with the atmosphere.
INTO THE WOODS
Perhaps the most intense record of the eruption are the living ones. Tree Ring Dating (not to be mistaken for that app that lets you find your next arboreal romance) is the science of using tree rings to determine effects on growth patterns in vegetations over a long period of time. Trees tend to stop growing when conditions are bad, and the rings get screwy....so if you can count backward, you can look at a tree stump and pinpoint climatological events with reasonable accuracy. Evidence of the Thera eruption can be found in old-growth trees in Ireland, Sweden, and even as far away as Canada and the United States. And if you need to pause here and take a moment, that's ok....we are, after all, talking about a natural explosion so massive that it affected tree grown five thousand miles away. 
THE TEPHRA TELLS ALL
As it turns out, volcanoes in general are kind of a gift. 
Volcanic eruptions all involve a substance known as tephra. Broadly speaking, tephra is....well, anything that gets thrown into the air by a volcano. This includes everything from tiny bits of ash to massive white-hot boulders. And no, before you ask: this is NOT (unfortunately) a story about white-hot boulders raining down on someone who remembers it....those two things are pretty much mutually exclusive. Somehow this is even worse - because we use tephra to figure out when things happened in history.
Basically anything that involves the term "BC" was on a calendar which we already have trouble pinpointing, and records from anytime before around 500 AD get a little squidgy (when they exist at all). So, in order to help us figure out the timeline on almost all of history, we have to use geological clues to help determine dates; tephra is a huge part of that process because volcanic eruptions are basically bookmarks in the ground. The effects of an eruption can be so widespread that it's not unusual to dig in sedimentary rock and find a layer of rock which began its life as a thick layer of fresh volcanic ash....that's tephra.
THE THERA PROBLEM
Great, you say, an eruption this big must be a huge help in determining the timeline on stuff! If only wishing made it so.
You see, we thought we had a pretty good handle on the basic timelines of the Xia dynasty, ancient Egypt, and the collapse of Minoan civilization. Normally, when all of the pieces fit pretty neatly together it means that the puzzle is more or less solved....but then in the mid-1900s we figured out how to date things using tephra layers, and the entire thing instantly went belly-up thanks to our old volcanic pal Thera. To put it into perspective, it's a bit like finishing a 10,000-piece puzzle and then finding out that there's a literal mountain-sized piece which you never placed - and there's no possible way that it fits in.
Naturally, this has made a great many (cough cough, old white) historians very angry. We don't really know what historians do when they get angry, other than furiously write scathing articles about one another. Regardless, to have multiple lifetimes of work unraveled by one stupid volcano three thousand years ago has got to sting a little.
EVERYTHING YOU KNOW IS WRONG
So there you have it; we've experienced the full circle of learning. We started out knowing very little, we learned a whole bunch, and eventually we learned enough to realize that we somehow know less now than we did when we started (and also that the Ten Plagues were probably real....sweet dreams). Honestly, it's a miracle that the entire academic community hasn't just exploded like a little volcano of its own.
---
Adam Azra'el is the producer of The Lesser Stories podcast, a multi-instrumentalist, and a colossal fan of ham and cheese sandwiches. You can find him around the internet being a general pain in everyone's backside on facebook and instagram, and he has tweeted exactly once. 
---
SOURCES